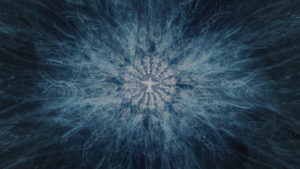 The Virtual World has never been so real. Step into the world of visions opened up by Ayahuasca, the plant used in rituals by the Shipibo tribe of the Amazon.
France, Luxembourg – 18' – Interactive VR experience
Directed by Jan Kounen
Produced by Atlas V, a_BAHN & Small
A visionary experience through the realms of the medicinal plants, led by indigenous Shipibo traditional healer in the amazon rainforest.
Ayahuasca – Kosmik Journey is the first virtual reality shamanic experience.
This mystical experience is accompanied by an immersive exhibition on the Ayahuasca ritual and the shamanist world of the Amazon. Because of its unique sensorial and documentary approach, it is the first immersive exhibition of its kind. With its unprecedented blend of science and fantasy, it invites users on a staggering multimedia journey into the unknown.
trailer
website