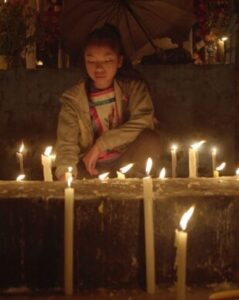 Floating with Spirits is a poetic experience that challenges the viewer's perception and makes the invisible visible in our world.
Foreseen late 2022, early 2023
Belgium, Mexico, The Netherlands – 20′ – Cinematic, hybrid 360º VR
Written and directed by Juanita Onzaga.
A production of Cassette for timescapes (BE)
in co-production with Tarantula (LU) and Studio Biarritz.
Experience the spirits of nature and the ancestors surround two little sisters who prepare for the Day of the Dead (known as Día de Muertos in Spanish) in the mystic mountains of Mexico remembering their shaman granny.
With 360° docu-fiction footage, volumetric capture of the spirits and photogrammetry of different places in nature, we create an interactive 6DoF magical experience. Floating with Spirits wants to share the indigenous knowledge of the Mazatec with the world through VR, because authentic connection with nature is a necessity in the climate crisis.
trailer
website