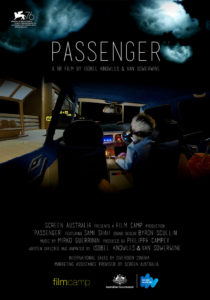 Sitting in the back of a taxi, driving through the dark, you gradually piece together your story, abstracted and dream-like, as you progress into the quiet shock of a new world.
Australia – 2019 – 10' – 360° video
Directed by Isobel Knowles and Van Sowerwine
Produced by Film Camp
A new immigrant to Australia has found work driving a taxi, and you are his passenger.
Using a mix of stop-motion animation and puppetry, 360-degree sound and virtual reality, Passenger cleverly and amusingly showcases the strangeness of arriving in a new country, and the perspective shifts that new migrants go through in the process.