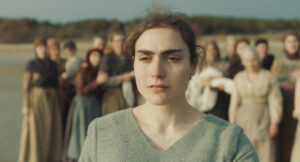 Piccolo Corpo tells a story about having the courage to accept the dark side of love: pain.
Italy, France, Slovenia – 2021 – 89′
Director: Laura Samani
Production: Nefertiti Film with Rai Cinema
Co-production: Tomsa Films and Vertigo
Italy, 1900. Agata, a grief-stricken young woman, leaves her seaside village behind to try and free her stillborn baby's soul, setting out on a perilous journey to a remote mountain sanctuary where she holds faith in a miracle.
trailer