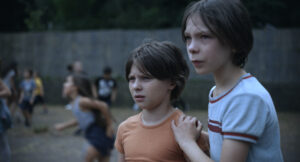 A heartbreaking and relatable story about resilience and conquering your place in the playground.
Director: Laura Wandel
Production: Dragon Films, Lunanime
When Nora witnesses Abel being bullied by other kids, she rushes to protect him. But Abel forces her to remain silent. Caught in a conflict of loyalty, Nora tries to find her place, torn between children's and adult's worlds.
trailer
website